Last Minute Windy City
November 9th

This is your exclusive opportunity to enjoy the Sky-Top Observation car Cedar Rapids in a small group environment, with 8 tickets being offered.  The Cedar Rapids has a corporate charter on November 10th from Chicago to Minneapolis, this opportunity allows us to offer an exclusive one-way trip from St. Paul to Chicago the day before.
On November 9th ride from Minneapolis/St. Paul to Milwaukee or Chicago. With this trip being one way only and recent reduction in air fares around the country, finding away home has never been easier. Fly or take the train for an affordable weekend get a way. Current rates for Amtrak from Chicago to MSP are at $66 for coach or if you wish to fly, Spirit is offering tickets starting at $43 one way.*
The Cedar Rapids will be pulled behind Amtrak's Empire Builder over the scenic former Milwaukee Road route along the Mississippi River, one of Amtrak's Top 10 scenic rail journeys in America.
While riding the rails, enjoy freshly-prepared meals and libations knowing that you are supporting the restoration of the Milwaukee Road Steam Locomotive 261.
Passengers are responsible for making their own hotel reservations.
---
Twin Cities to Milwaukee & Chicago – Nov 9, 2016
Times*
Nov 9
Depart St. Paul Union Depot 8:00 am
Arrive Milwaukee Amtrak Station 2:07 pm
Arrive Chicago Union Station 3:55 pm
One way – St Paul Union Depot to Chicago/Milwaukee Station – Nov 9 – No Hotel ~ $299.00
---
Arriving at Union Depot:
Please allow plenty of time to travel, park and walk to Gate C (Amtrak gate) in Union Depot.  There are many one-way and limited-access streets around Union Depot.  Once you arrive at Union Depot plan on walking – the majestic building covers several city blocks!  Take time to explore the art and history inside the building.
Parking ~ There are three parking lots at Union Depot St. Paul. Click on Lot A, B, or C for map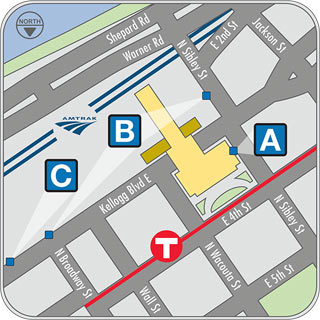 Lot A ~ the head house ramp, is enclosed and can be entered off Sibley Street near the Kellogg Boulevard intersection. Once parked just take the elevator up to Level 1 (head house, concourse or waiting room) to board the holiday train at Gate C.
Lot B ~ can be entered off Sibley Street, between Shepard Road and Kellogg Boulevard, or from Kellogg Boulevard at the intersection with Broadway Street. This parking is covered as well. From the lot follow the signs to the Union Depot and take the escalators or elevators up to the waiting room to board the holiday train.
Lot C ~ is a surface lot to the east of Union Depot. There are two entrances along Kellogg Boulevard, both west of Broadway Street. Once parked, walk east along Kellogg Boulevard to Union Depot's Kellogg Entry (East Entry). Take the escalators or elevators up to Gate C in the waiting room to board the train.
Accessibility:
Accessible drop-off locations are in the carriageway (off Sibley between Kellogg and 4th Streets) and at the Kellogg Entry (East Entry) at 240 E. Kellogg Boulevard. There are no strollers or wheelchairs for rent or loan.
Light rail and other transit:
The Green Line (light rail) from downtown Minneapolis, the University of Minnesota and the Midway area of St. Paul stops in front of Union Depot. After the Green Line arrives at Union Depot, walk through the head house, concourse and waiting room to board the holiday train at Gate C. Many Metro Transit buses serve Union Depot either on the bus platform or at the intersection of Broadway Street and Kellogg Boulevard.