Friends of the 261 acquires private car Caritas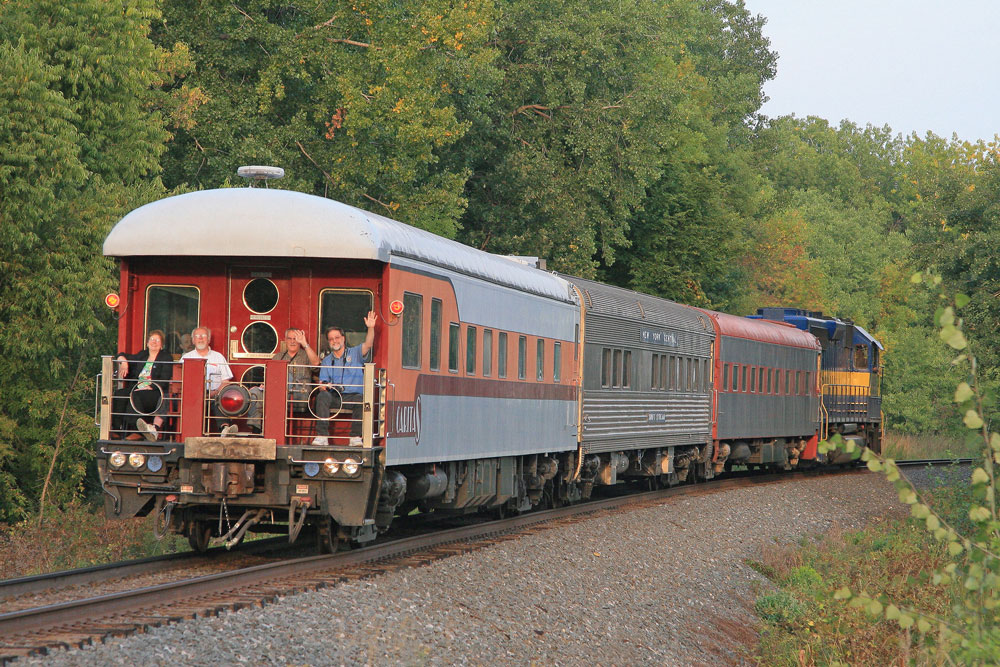 Caritas has traveled thousands of miles on excursions organized by car owners Clark Johnson and Nona Hill (pictured at left) through their company High Iron Travel. (Steve Glischinski)
MINNEAPOLIS – The Friends of the 261, the nonprofit organization that owns and operates Milwaukee Road 4-8-4 No. 261, has purchased well-known private car Caritas, Friends of the 261 President and Chief Operating Officer Steve Sandberg tells Trains "News Wire." Sandberg says the group acquired the car in a bankruptcy auction from the bankruptcy court in charge of Heritage Rail Leasing LLC, a subsidiary of Iowa Pacific Holdings. Heritage Rail's trustee is currently selling more than 100 pieces of historic rail equipment, including dozens of passenger cars and more than 20 locomotives.
Caritas has traveled thousands of miles on excursions organized by car owners Clark Johnson and Nona Hill through their company High Iron Travel and has developed a loyal following among railfans and mileage collectors. It has been used on trips as far south as Guatemala to Great Slave Lake in Canada's Northwest Territories, and from coast to coast. It is the most widely traveled car on the Amtrak system. Johnson and Hill regularly organized rare-mileage "Explorers" trips, sometimes with only the Caritas but usually in company with other private cars that traveled where passenger trains seldom tread. The car is currently stored at the Amtrak Station in Milwaukee.
Johnson was an early member of the Minnesota Railfans Association, which sponsored steam excursions in the late 1950s and early 1960s with Burlington; Duluth, Missabe & Iron Range, and Soo Line steam power. His first foray into private-car ownership was in 1963, when Johnson and five MRA friends raised $3,500 to buy business car Twin Cities from Soo Line (the car was sold in 1967).
The car was built by Pullman-Standard in 1948 for the St. Louis-San Francisco as 14 roomette-4 double bedroom sleeper No. 1450 Pierre Laclede for use on the Texas Special. In 1965, Frisco sold the car to Canadian National, who renumbered it 2095 and renamed it Churchill Falls. In 1982, Johnson purchased the car from VIA Rail Canada and renamed it Caritas — the Greek word for charity. He invested $250,000 to rebuild it with an open platform and an interior that features art deco patterns, colors, and etched glass. The car has three double bedrooms and a master room with a double bed and its own shower; a second shower serves the three double bedrooms. It also has a kitchen, two dining tables seating four each, and a lounge.
Iowa Pacific Holdings bought High Iron Travel in 2006, with Johnson serving as one of the owners and directors of Iowa Pacific. He continued to run High Iron Travel after the sale. The car was then repainted into Iowa Pacific's Illinois Central-inspired colors of brown and orange.
Sandberg says he wants to keep the car operating in Amtrak and special train service in keeping with Johnson's legacy (Johnson is now in his 90s but still active). Its first trip will be in April 2022 with Johnson on board for a trip to Florida for a rare-mileage trip. "Clark has done so much for our industry," Sandberg says. "He's worked with Amtrak, [American Association of Private Rail Car Owners], railroads, and other private car owners. Keeping Caritas in operation is a great way to honor him and all the contributions he has made over the years."
To help with preservation and operation of the Caritas, the Friends is accepting donations at the link below.
Article writen by Steve Glischinski