Notice:
The Radisson in downtown Duluth is expected to remain closed through May 15th after a water line broke and flooded parts of the hotel's basement causing its guests to find other accommodations.
For those of you that have reserved a room at the Radisson, we recommend you call and cancel at the Radisson, and call one of the hotels listed below to reserve your room for the May 11-12 excursion to Duluth as soon as possible.
Milwaukee Road 261 To Pull First Steam Excursion in Four Years!
May 11-12, 2013
Presented by the
"Friends of the 261"
This spring the "Friends of the 261," in cooperation with Amtrak and BNSF Railway and Lake Superior Railroad Museum, will operate the Milwaukee Road 4-8-4 No. 261 under its own steam for the first time in four years, pulling its inaugural excursion from Minneapolis to Duluth, Minnesota.
On Saturday, May 11, the excursion train will depart Minneapolis Jct. at 9:00 a.m.* and travel BNSF Railway's ex-Great Northern Hinckley Subdivision. Expected arrival in at the Lake Superior Railroad Museum in Duluth is at 3:00 p.m.* Minneapolis Jct is located at 401 Harrison St NE, Mpls, MN 55413, plenty of parking is available on sit
Join us in the celebration, May 10th is National Train, the 143rd anniversary of the driving of the Golden spike. Saturday evening, Lake Superior Railroad along with the Friends of the 261, will be hosting a dinner train that will depart the museum at 6:00 p.m *. Prior to departure a reception will be held to celebrate National Train day starting at 5:00 p.m.* where refreshments and hors d'oeuvres will be for your enjoying. Once en route the train will travel an hour north of Duluth while passengers will enjoy the evening scenery of Minnesota's North Shore while dinning in one of many vintage cars, then the engine will run around the train and we will make the hour journey back to the museum for an 8:00 p.m.* arrival.** If you'd like to join for just the reception and not the dinner train, this may be done, purchase your tickets in advance to secure your admission.
Wait there's more! Later in the night, 261 & 2719 will be on stage for a night photo shoot starting at 10:00 p.m.*, funds from the photo shoot will go to support both 261 & 2719**
On Sunday, May 12, our train will depart Duluth at 12:00 noon* with arrival in Minneapolis at 5:00 p.m.*
Passengers can book hotel accommodations in Duluth themselves. The Friends of the 261, Lake Superior Railroad Museum, and visitduluth.com have arranged for discount rates at the following hotels, call in and mention Friends of the 261 and get a discount rate: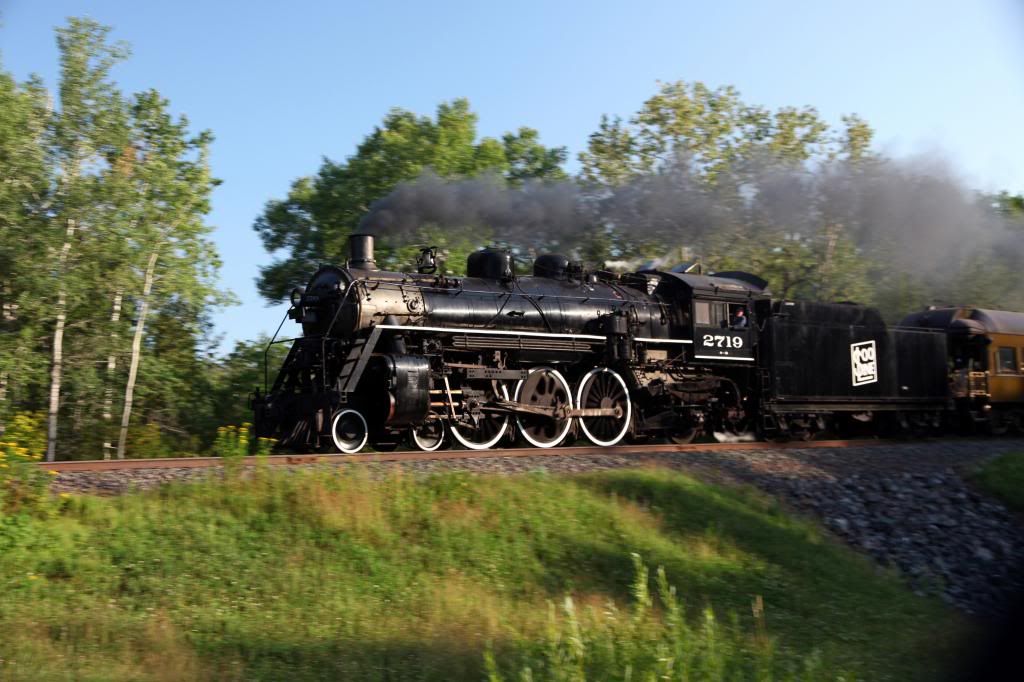 While in Duluth, visit the Lake Superior Railroad Museum, home of Soo Line 4-6-2 No. 2719. No. 2719 will be steamed up to welcome our excursion train to Duluth.
-or-
While in town visit many of Duluth's other scenic and must see attractions
Both trips will include coach, first class and premium class. Premium class includes reserved seating in Milwaukee Road Skytop observation Cedar Rapids or Super Dome 53. Food service is included with your ticket in First Class and Premium Class. Breakfast and lunch on the way to Duluth, with Lunch and hors d'oeuvres on the return trip.
For Map and Directions to Minneapolis Jct, Departure location of the trips click here,
Map
*Times and cars on trips subject to change with out notice and may be delayed to freight traffic.
**Dinner train and photoshoot tickets sold seperately from round trip 261 tickets
General Information
"Friends of the 261" is not responsible for equipment substitution and assumes no liability for inconvenience caused by delays. Trains will run rain or shine. Seats are not reserved except in Premium Class. Seating will be available 30 minutes prior to departure time. Smoking is allowed only in vestibules. Light food service (such as hot dogs or sandwiches) and souvenirs can be purchased in the commissary car. We welcome disabled or handicapped passengers. However, because these are older cars, there are no special handicapped facilities available. Please consider the suitability of these trips carefully and call (651) 765-9812 for additional information between 9 a.m. and 4 p.m. Central Time. If you have special physical needs, please give us advance notice.